>>>http://voicesinyourblog.tumblr.com/<<<
>>>http://voicesinyourblog.tumblr.com/<<<
>>>http://voicesinyourblog.tumblr.com/<<<
>>>http://voicesinyourblog.tumblr.com/<<<
24 Comments
---
Well, it's the last day of April, and in the spirit of the  incredibly exciting month it's been for us, I'm proud to present you...
a DOUBLE BLOGPOST (all the way across the sky!)
That's right, it's a double blog post, covering not one but TWO game-changing events for Voices: BOSSton Sings and ICCA Finals. It'll be a long one, so stay with me.
PART I
It seemed that everyone was trying to keep us from getting to our destination: United, who delayed our flight by three hours, and the city of Boston, who delayed their buses indefinitely. However, we eventually made it to Boston's Regent Theatre, where we met up with Lily Baker and Elspeth Michaels (yay!), got all dressed up for the red carpet, and schmoozed with lots of aca-people.
But it wasn't all fun and games over at the Regent. We were competing (and sharing a changing room... oh dear) with five other a cappella groups. In the end, not only did we win first place and the prestigious(?) Golden Lobster, but we also got some great special awards: best staging (yay Alex Gilewicz and Ryan Bober!) and the perplexing "Second Most Orange".
As exciting as those awards were, the most special awards of the night were probably the CARAs Brianne and Chris won! That makes three CARA-winning arrangers in one group (who's the third?). We're pretty sure that's a world record. Someone call Guinness.
The next day we got to reap some of the rewards of our success. We had a masterclass with the singular Benjamin Stevens and Nicole Milano, and I think it can only be described as life-changing for all parties involved. Not only did we find love in a hopeless place (possibly UChicago?) but we learned a little about nerdy-flirty heartbreak and what constitutes a classical tragedy. Tears were shed. We also got to open for the professional showcase, where we set the twittosphere--that's totally a word!--abuzz with our mic-waving techniques and sheer volume.
Oh, and speaking of sheer volume, TRACES won our hearts that night and we're all going to leave Chicago and become groupies. [#LADYBASS] Then Cadence blew what was left of our minds, and still had time to make Naomi feel really embarrassed.
Oh yeah, speaking of Cadence... did we mention we had an amazing, amazing masterclass with them? And thus Cadence in Your Head formed. And it was beautiful.
We also got to go to workshops, record with some talented, talented people, have pillow fights, and explore the city of Boston. All in all, definitely not the worst weekend ever. 
PART II
Two short weeks later, we were back on the east coast. Except Alex, who forgot to print a boarding pass, ended up in boarding group Q, and was left behind to write her BA in Midway. JUST KIDDING.
We weren't the only ones excited to be going: we were not so much asked as forced to sing a song on the plane ride there by a very enthusiastic stewardess. We couldn't tell if our captive audience was overjoyed or horrified. Our singing-in-enclosed-spaces trend continued when we sang on the airport tram and made a man fall over. Literally. If you're reading this, Sir, we hope you liked it, and we're very, very sorry. What we're NOT sorry about, however, is plastering New York with stickers. Voices: taking over the world, one city at a time!
Despite all our jolly stickering and singing, the road to ICCAs was a bumpy one. We faced many challenges: would we get kicked out of the laundry room for singing too loudly? Would we ever convince the non-New Yorkers in the group that New York pizza is far superior? Would Chris go crazy and kill someone if we sang our impromptu song "Party Van" one more time? And would Ivan and Bri ever stop fighting over who gets to sleep on the couch??
Fortunately, everything worked out (except maybe the pizza). We even succeeded in NOT breaking any of the artifacts in Denk's grandmother's apartment. So we headed to Town Hall the next morning in high spirits. We got to rehearse in the superfancy, superexclusive Princeton Club, in a supersmall room that ensured we all got niiice and close while warming up. (#cultbonding)
The rest of the day was soundchecks, makeup, meeting other amazing groups, and of course singing. We are overjoyed by how many of our friends and family came from all over to support us, and the whole experience was a blast. Not only did we get to watch some of the best a cappella groups in the country perform, but we saw ICHSA winners sing at a level we never thought possible for high schoolers, and were blown away by the experience of Delilah live. We are so honored that we finished 4th among such a tough, tough competition: as Obama would say, not bad. We definitely won at one thing, though: the afterparty. We closed out the bar long after other groups had called it a night. And as we staggered home, we thought: this was also not the worst weekend. Definitely not the worst.
So ICCA season is finally over, but we've got much coming up. For all you Titanium fans, there's going to be a music video coming your way. And we've got our spring concert, where we prove that we can sing more than three songs! We'll see you then!
AMK
p.s. Check our ICCA set here!
293 Comments
---
Hey blogreaders. Sorry it's been such a long time since you've last heard from us. We have been busy, busy, busy. You thought February was busy? That was NOTHING compared to these past two weeks. We've been seeing so much of each other lately that we might as well just buy that Voices house, get those Voices tattoos, and call it a day.
The Vadness (Voices Madness, duh) began over spring break. While our classmates were partying it up on some faraway beach (or, more likely, this), we roadtripped to St. Louis in preparation for ICCA semifinals. We stayed at CJ Hodnefield's house, home of an awesome trampoline, a creepy doll that crawled into Mason's bed, Storm the unofficial Voices dog, the best water feature in Ward One, and of course, the wonderful and hospitable Hodnefields.
We had a day to roam around St. Louis, so we went to the zoo and tried to sing Little Lion Man to the little lions. Unfortunately, they were so little that we couldn't even find them. Maybe they really are only in Kenya. To our credit, though, zoo-goers braved the pouring rain to watch us sing, even if the lions didn't.
The rain cleared up in time for us to get two of our favorite things: 1) ice cream and 2) Raffy, our perpetual good luck charm. Once in Voices, always in Voices. That night, there was plenty of free time for stuff like singing in chipmunk voices and watching our new favorite youtube video on repeat. Oh, and rehearsing. Lots and lots and lots of rehearsing.
The next morning, we were eager to get the semis ball rolling. So eager, in fact, that we showed up to Wash U about an hour early. Oops. We spent the day eating, rehearsing, sound-checking, doing hair and makeup, rehearsing, aca-schmoozing, and did I mention rehearsing? Finally, it was time for the singing...
...And I guess all of that rehearsing paid off, because WE WON FIRST PLACE! That's right, y'all: for the second time this year, Voices is going to New York.  There are so, so many people to thank in all this, like the Hodnefeld family, and our wonderful judges, and the people at Varsity Vocals who organized the event, and Sara Dougadir, and Samir who drove 6 hours to see us, and Alex and Ryan (who got best choreography AGAIN, such BAMFs), and Chris (who got best arrangement AGAIN, no words, so proud), and Heidi Coleman, and everyone who came and gave commentary on our set, and RUN ON SENTENCES OHMYGOD. A belated congratulations to amazingly talented runner ups the Dicks and Janes and the G-Men. All of the great groups who competed that night make us extra proud of our accomplishments.
It's been a long path to get to where we are now, but it's far from over! You may think I'm exaggerating when i say we have the CRAZIEST MONTH EVER planned, but I'm totally not. We've already had three successful gigs: Our concert with On The Rocks, our unseasonably cold arch sing with the Stanford Fleet Street Singers, and our performance at the open house reception for the gorgeous new Logan Center for the Arts. Soon, there will be Boston Sings, where we are competing and attending the CARAs in full red carpet swag. There will be filming for our new music vid. Aaaaand there will be ICCA finals! ACA-WORLD, GET READY FOR VOICES IN YOUR HEAD! #alittletooexcited #butwedontcare
You'll be hearing from us a lot this month. Next stop: Boston!
AMK
2304 Comments
---
WOW. just wow.
Readers, what an amazing month it has been for us. Let me take you through what made February so freakin' amazing (disclaimer: CAPS will be used liberally throughout this blog post. It's that exciting):
FIRST, I Used to Live Alone was chosen as one of RARB's picks of the year for 2011, AND both I'd Like To and Boomerang  were chosen as songs of the year. Here's from Robert Dietz, one of our reviewers:
THEN, we were even more honored to be nominated for **FIVE** CARAs (see our home page or CASA's website for the full list). Our superstar ex-blogger Brianne Holland got a nom as well: Best Female Arrangement for her arrangement of "On The Wing" for Men In Drag. That gives us an astounding THREE CARA-nominated arrangers in one group, although Sara Dougadir might wonder, "who's the third?" (Don't worry, Sara... it'll come to you eventually.) We can't wait until UChicago a cappella reps the Midwest on the CARA red carpet.
AND FINALLY-- the cherry on the aca-sundae--we won first place at our ICCA quarterfinal!!
Our alums were our good luck charm: ICCA day came with extra-special visits from Raphael Wilson (straight outta Dallas) and Lily Baker (All the way from CA). Not to mention a magic-school-busload of more alums and fans, complete with a swagtastic Mrs. Frizzle. We started the day in DeKalb by singing tags in a candy store, and ended with a party-that-wasn't. And in between...
On a serious note, our ICCA win was such an honor. There are many people we couldn't have done it without, especially Heidi Coleman, Sara Dougadir, Zachary Madden, and every beautiful current Voices member, especially Chris Rishel for his award-winning arrangements and Alex Gilewicz and Ryan Bober for their award-winning choreography. Thanks to them, we have so much to look forward to in the month to come, like MORE INTENSE REHEARSALS and a trip to Chez CJ. St. Louis, here we come!
46 Comments
---
Hello all! Winter quarter is well underway, and as you might be able to tell from the title of this post (No? Maybe not) that means it's ICCA season for Voices. We kicked off the road to quarterfinals with our annual retreat to Chris's house in Chatham. It included the traditional epic shopping trip to Meijer, the traditional group visit to Steak n Shake (WARNING: not vegetarian friendly...), the traditional ICCA presentation, and the not-so-traditional middle-of-the-night search for the neighborhood cat... who we never found.
Not traditional yet, but quickly becoming so, is the practice of playing elaborate pranks on sleeping tenors (See: The Super Glue Incident). This time, we upped the stakes:
...By covering Mason in saran wrap one night, and on another, threading his sweater with uncooked spaghetti. MASON, didn't you learn anything from summer camp? Never be the first one to fall asleep!
One very exciting thing about Winter retreat was that we picked up a new member in Chatham. We know it's unorthodox, but hey, that's how we roll. Our newest addition is incredibly attractive, but very pale and cold as ice.
Nope, not that one...
That's the one. We tried to take him back to Chicago with us, but when the cars pulled in he was nowhere to be found, and there was a big puddle of water in the back seat. Suspicious...
On a more serious note, we haven't gained any new members, but we have regained an old one. Sarah El Mouatassim Bih, we're so glad to have you back. Don't ever leave us again. SIX MORE YEARS! SIX MORE YEARS!...
Retreat may be over, but the path to ICCAs has just begun. We're working hard to learn three shiny new arrangements over the next three weeks, practicing our white noise sounds and our purposeful wandering walks. And we've got lots of exciting events coming up, not least of which are our ICCA send off concert and a concert with Sing-Off rockstars On The Rocks in March. Stay tuned... we'll see you on the other side of quarterfinals!
AMK
522 Comments
---
Where can you find Voices? Only in New York!
For a few glorious days, Voices in Your Head were Kings of the hill, top of the heap, in the city that never sleeps. We know it's the city that never sleeps because we're pretty sure none of us got any sleep.
Instead, we did awesome things like host an alumni dinner our first night in New York. Thanks to Ivan Anderson and Hannah Berson for coming, giving us insight into a past chapter in Voices history, and showing us that Voices alums basically run the world now. As one of them put it, "I feel like I had a baby... and it went to college." We're proud to be their babies. #sappy
The next morning, after giving a great concert for the Packer school in Brooklyn, we sang tags on the Brooklyn bridge... and then we tagged the Brooklyn Bridge. With our stickers. THE VOICES GUERRILLA MARKETING CAMPAIGN BEGINS! Then it was Dim Sum (does anybody else like Chicken feet? Anybody...?), shopping, and a workshop with the Young People's Chorus of New York City. We were impressed with how well the boys could vocally percuss, and we found our best audience of the whole tour in a group of 7 through 10 year olds. From now on we are doing exclusively elementary school performances. And giving out lots and lots of stickers.
But wait! There's more! Friday consisted of a venture outside the city to the mysterious suburban wastelands of Rockland county, where we received the following high accolade via twitter from one of Allegra's former classmates at Clarkstown South High School:
"Chillzzzzz yo #harmonies" -@Sweet_Ccaroline
And Friday night was wonderful because we got to spend it with The Red States, giving a joint concert in Times Square. Saturday was also wonderful, even though we got schooled by a 10-year-old playing violin at Juilliard pre-college.
As tour becomes just a memory, and we disperse back to our respective corners of the country, leaving Denk to pick up the smashed remains of precious artifacts that litter his grandmother's apartment (JUST KIDDING. We love you, Grandma Denkesohn. And we didn't break that many things, we promise), we'd like to say thank you to every person and group who helped us along the way and made our crazy ambitious tour a reality. Have a great rest-of-Winter break, everyone who's been following us along the way, and we'll see you again next year (Winter retreat!! ICCAs!! AAAHH!)!!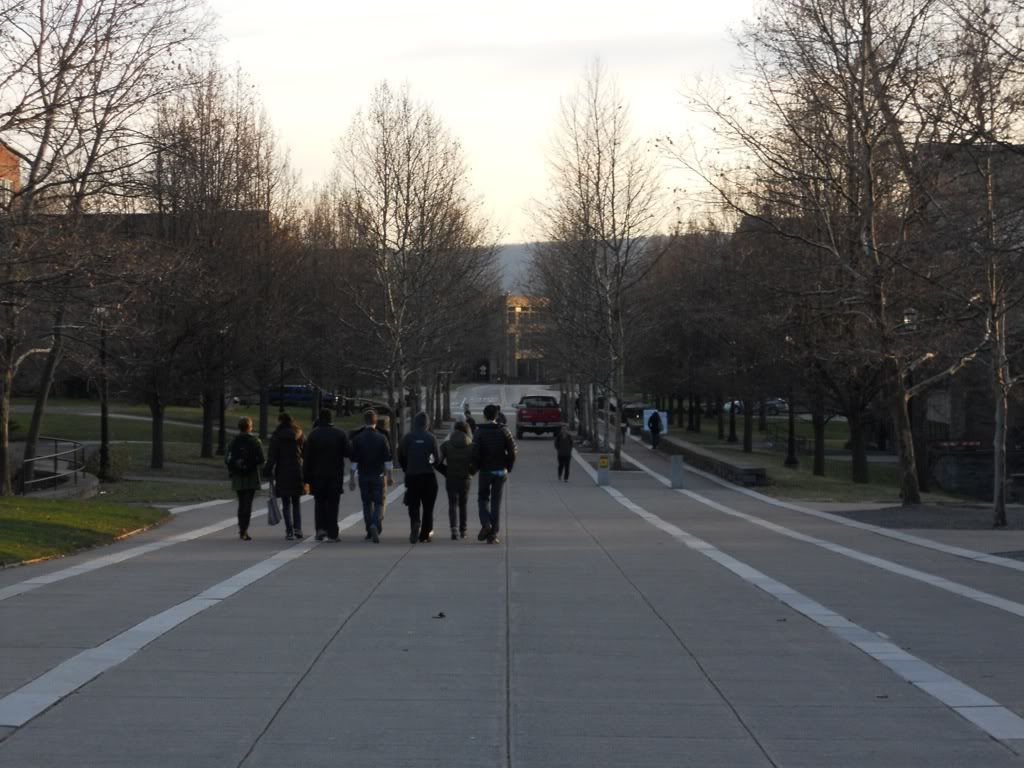 Walking off into the sunset. PEACE.
AMK
15 Comments
---